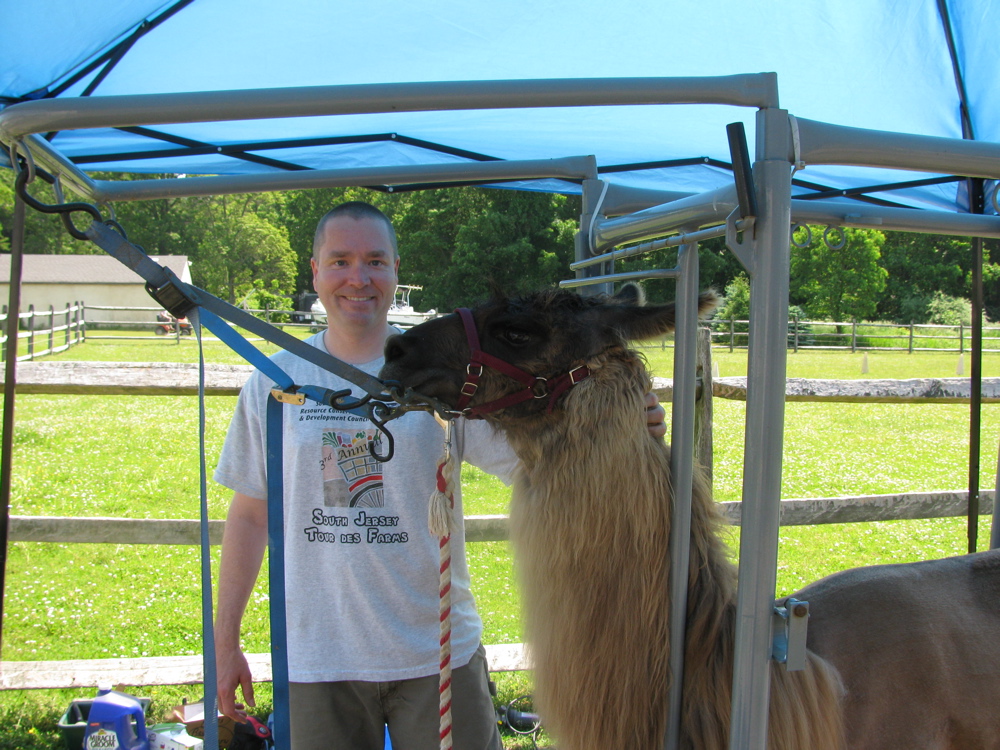 …llamas can be very therapeutic!
The OceanMHS Wave Program had the pleasure of a visit to Second Wind Farm in New Egypt, NJ on November 8, 2017. The Wave staff and consumers met Bev Vienckowski, owner of the beautiful farm and caretaker of five wonderful llamas! Staff and consumers were able to meet each llama individually, and then the consumers were able to pick who they felt most comfortable with to go for a scenic hike. Bev educated us all on llama caretaking, uses for their fiber, where her five boys – Jimmy, Clemente, Carbon, Eduardo, and Gunner – came from.
One of the most important things we all learned was that llamas can be very therapeutic! They are very adept at sensing how a person is feeling and Bev stressed to all of us the importance of being our 'authentic self' with the llamas. She informed us that they can sense how we are feeling and will reflect that, so she encouraged each of us to be ourselves and not to mask or hide any of our feelings. The consumers quickly lined up to meet each llama and when it came time to pick who would walk with which llama there were no conflicts! Greg and Jimmy made a wonderful match, as did Hope and Carbon, who had an instant connection! Ashley chose Clemente, or was it the other way around? Jon matched with Eduardo, who was quite feisty (and hungry) but Jon enjoyed the challenge! Gunner took turns walking with Adonis and the staff, or perhaps he walked us? After the walk was over Bev showed us her little store full of unique llama goodies!
After the visit we all discussed our experience with the llamas. Hope described it as "calm and peaceful." She stated walking through the woods to the lake with her llama was incredibly relaxing. Jon laughed as he spoke of Eduardo's need to stop and eat a blade of grass or pine needle every few steps. Greg said he and Jimmy bonded so well he even got a llama kiss! Although this visit was not what we would traditionally describe as animal therapy I would say we all left Bev's farm yesterday with a greater sense of peace and happiness after being able to bond with these kind animals. Our consumers have all been through programs, individual therapy, speak with their case managers or doctors regularly, but interacting with Bev's llamas brought each and every one of us comfort and joy that could not be achieved through traditional therapy. Thank you to Bev and your llama boys for inviting us to your home and sharing your day with us!
Kasey Congero, MA, LAC, Wave Coordinator
…amazing animals that will be so helpful in healing
Walking with the llamas at Second Wind Farm was such a wonderful experience for my family. As we became adept at listening to and connecting with the llamas, it made you understand the special, trusting relationship that is possible with creatures who meet you where you are. They are amazing animals that will be so helpful in healing those suffering from PTSD and other ailments who need to build trust and reassurance from those around them.
Carrie Kitze, Warren, NJ
…always felt completely at ease and safe
My 12 year old daughter (clinically diagnosed with high anxiety and ADHD) and I had the good fortune of meeting Bev Vienckowski and her llamas at Second Wind Farm almost four years ago. Our relationship with her and the facility has only grown over the years. From our introductory visit, to now being able to care for the llamas on our own, each visit to the farm is a highly rewarding experience for any age and level of experience.
Bev is an extremely kind and patient person using her knowledge of large pack animals to ensure not only the physical safety of each person, but takes each opportunity as a learning experience for her visitors at the farm. The farm is orderly and the animals are well cared for, each llama is not simply an animal, but a member of her family. Over the years I've seen Bev not only work well with my daughter, but also with extremely large groups of people. She is always in command of the situation, constantly assessing the surroundings and the interaction of her llamas with those leading them.
From the numerous times I've been in her company I've always felt completely at ease and safe, from simple long walks to the more difficult procedure of shearing their fiber. Her confidence, knowledge and love for the llamas and desire to share that passion with others are second to none.
John J. Leonard/Catherine H. Leonard, New Egypt, NJ
…Interacting with animals is a calming experience for people with special needs
My husband and I have known Bev Vienckowski for many years, as a business associate and a friend. Not only is she very reliable in our business relationship but also a kind, interesting, and delightful friend. We have visited her and her beloved llamas, watched her care and train them, and have seen the great love she gives these animals. We have seen the affection the llamas show her.
We have interacted with her llamas and have also brought our grandchildren to her home to visit with her llamas. She patiently taught us how to interact with the animals. The experience was uplifting, exciting, calming, and challenging. Beverley showed us how to speak to the animals and behave so they trusted us. She patiently taught us how to walk with them and interact in a friendly way.
We have spoken many times about how interacting with animals is a calming experience for people with special needs. It is a special experience being with them and Beverley. In fact, both my husband and I would gladly volunteer to help Bev as she and her llamas provide a meaningful experience to men and women who have special needs."
Janet and Monte Rosen, Ocean, NJ