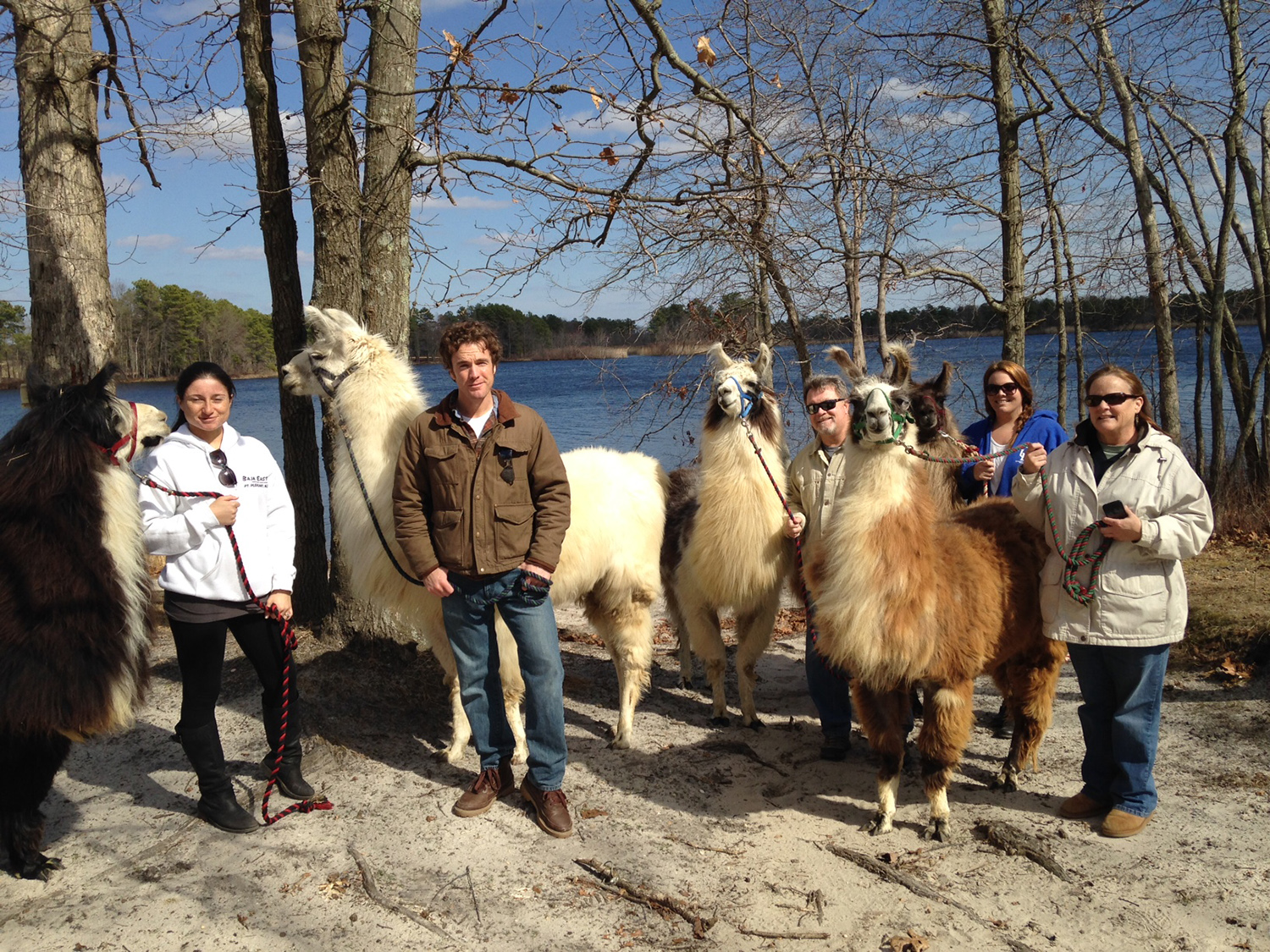 …calming, relaxing time walking in nature
Hello Carbon (Linda's favorite llama), My experience walking with you and your gentle giant brothers is always a wonderful experience. For me it is a calming, relaxing time walking in nature, breathing fresh air and enjoying these beautiful llamas! I miss you guys and hope I can come out for a visit real soon.
Love, Linda Hahneman, Neptune, NJ
…a sense of peace and wellness in your soul
I have had the pleasure of visiting Second Wind Farm on several occasions over the past few years. I have brought friends and family along, and Bev always welcomes visitors with a warm, engaging manner. She is extremely knowledgeable about her llamas and chickens and imparts her wisdom in a friendly, patient style. You learn without realizing you are learning! The walks we have taken with the llamas are invigorating and calming at the same time; you are entertained, yet feel responsible and awed by the animals and their individual stories and histories. I would recommend this experience for anyone, any age. It is far removed from most of our daily lives and routines, and when you leave you take a sense of peace and wellness in your soul."
Anne Sogorka Cook, Point Pleasant, NJ
…lose track of all other concerns
My sister has always loved animals yet her fascination for the llama seemed to have come out of the ether. Bev shines when she can share her discoveries and the llama chapter is a gift to us all. I think it's best to take a walk with Bev and the llamas without any expectations. The llamas lead us into another world where it's pretty silent except for the shuffle of twigs and leaves underfoot. My llama and I work together so I can manage the lead. Somewhere along the way, I lose track of all other concerns and I am present in the walk and beautiful Colliers Mills.
Stephanie Carr Colie, Higgins Lake, MI 
…peaceful, relaxing and exciting all at the same time
What an amazing experience! Riina was matched with Carbon, the "little guy". Well, not so little at 350 lbs. Pete and Jim-E were walking partners. The llamas are gentle and obey basic verbal commands, but you do have to let them know that you are in charge. Walking through the woods with the beautiful fall foliage and four llamas was such a unique experience. It was peaceful, relaxing and exciting all at the same time. It's empowering to know that you can control these beautiful, large creatures with just your voice and a gentle tug on its bridle. Their facial features make it seem as if they are smiling all of time, and the positive vibe is contagious.
Riina & Peter Van Rixoort, Matawan, NJ
…unbelievably relaxing on my beautiful sunny walk
We had an outstanding day at Second Wind Farm. What a beautiful experience to walk with Bev and her llamas. It was so unbelievably relaxing on my beautifully sunny walk with my new friend Carbon and his llama friends. Already planning my next visit, so excited!
Patty Horner, Jackson, NJ
…leaves me feeling renewed
There's something about the presence of these curious, majestic llamas that leaves me feeling renewed. By taking one look at them it's easy to see the amount of care and hard work Bev puts into Second Wind Farm.
Sheila Moaleman, Brooklyn, NY
…uniquely peaceful experience
A llama walk is a uniquely peaceful experience. Walking the trail, you learn a lot about this fascinating creature, and about yourself. Stopping for pine needle snacks, jogging to catch up with the pack, navigating an uncertain turn, you get to know each other's rhythms and begin to trust each other. They also resemble muppets which is a plus.
Tim Vienckowski, Brooklyn, NY
…an exercise in therapeutic silence and bonding
I remember being impressed, on my first llama walk, with Eduardo's teeth. They were not far above, with his head bent examining the Colliers Mills woods as we entered them, my exposed neck. We were not far into the woods, however, before I realized he was a very gentle, though cautious, animal.  Mixed among other llama guides, I thought the experience, once the initial banter of the group's outing dissipated, became an exercise in therapeutic silence, and bonding, between man and llama.
Mike FitzGerald, Vietnam Era Army veteran, Lenoir, NC
…calm and confident
From the moment I saw the llamas, I knew I was going to have a wonderful time. We walked for an hour or more and never once did I ever feel any peril from these beautiful animals. I was calm and confident and I truly felt peace. I am looking forward to visiting Second Wind Farm soon to continue my friendship with Carbon and the gang.
Judy Durkin, Brick, NJ
…one of the most peaceful and relaxing things I have done for myself in a long time
Just had an amazing trip to Second Wind Farm. Such a pleasure to spend time with Bev and her llama boys! Enjoyed a beautiful walk around the nearby nature preserve with them and I must say it was one of the most peaceful and relaxing things I have done for myself in a long time. Have had a lot of stress and walking with the Llamas soon all was forgotten. Truly a remarkable experience. Can't wait to go back and visit again. Mrs. Vienckowski has something special here."
Stacey Higgins, Neptune City, NJ.
...felt an overwhelming serenity after my visit to the farm
The Llama Farm provides an excellent opportunity for individuals to connect with nature. Interaction with the llamas is a very unique experience for family and friends. There are many benefits that come from interaction with animals. I, for one, felt an overwhelming serenity after my visit to the farm. It is nice to know that there are still people interested in helping others and sharing this great experience with llamas with their community.
The visitor wishes to remain anonymous

…thank you for having the insight to offer such a beautiful world to us
I just want to take a moment to say that we had an amazing experience yesterday with you and the llamas. It was a first time experience for my son and I, and I must say that it was a pleasure seeing him be outside walking in nature with beautiful animals, and experiencing the serenity of the surroundings. Quite the difference from being in school every day, or playing video games. In fact later that evening he wondered if we can come back and visit. He really enjoyed it so much, as did I. So thank you for having the insight to offer such a beautiful world to us and I wish you and Ed, so many more great experiences with your five beautiful friends, and chickens.
Dr. Shari Collins