Choose Your Second Wind Llama Adventure!
Haltered llama walk of approximately 1.5 miles. This adventure will take about 2 hours including a farm introduction. All participants must be at least 12 years old. Minimum of 2 people. $40 per person/llama. We go out with maximum of 5 llamas. (If you have more than 5 people in your party, they are welcome to join us for a $20/person sharing fee. 10 person maximum.)
For those who would like to experience llamas without a hike in the woods. This adventure will take about 1.5 hours. After introductions to chickens and llamas, we offer a shorter haltered walk within our fenced pastures. The terrain is a flat grassy surface to walk on which is also somewhat wheelchair friendly. Llamas can greet people who are seated. This is an ideal group recreational activity for senior communities. $30 per person/llama. 5 person minimum /10 person maximum. Exception: during hunting season 2 person minimum on Saturdays and Wednesdays.
Use your imagination to create your own unique llama experience. We can design a custom day or half day with you. Consider us as a venue for a Corporate Retreat, a Llamas & Yoga Wellness Adventure, for photo opportunities with our llamas to announce your engagement or personal milestone in a unique way! Half day starting at $300 for up to 10 people.
A personalized llama experience for visitors with special needs. Let's talk about it.
Ready to schedule your unique Adventure?
Due to the overwhelming demand for Second Wind Llama Adventures, we have temporarily stopped accepting Reservation Requests.
Llama Adventures are by appointment only on a first come, first reserved basis. Our season starts in September and runs through the end of May. Llama Adventures are offered twice a day on Saturdays, Sundays and Wednesdays in the morning and afternoon. We are closed June, July and August.
What if I have a reservation and the weather is iffy?
I will text your mobile # to remind and reconfirm a few days in advance, as well as stay in touch if bad weather is forecast. If light rain or chance of showers is forecast, we go. If heavy rain or chance of thunder showers is forecast, we monitor the radar maps and make our decision to cancel and reschedule at a mutually agreeable time. Under 6 inches of fluffy snow is OK. We cancel for safety sake for any kind of ice or frozen slush. 80/80 rule applies in warm seasons. If temperature is over 80°, and humidity is over 80%, we cancel for the health and well-being of the llamas.
What should I wear?
Dress for the weather and the woods. Long pants and socks are recommended. Please wear closed toe shoes.
What are the trails like?
Trails are dirt roads and horseback riding trails which are mostly level and sandy underfoot. View the trail map.
No Dogs | No Alcoholic Beverages | No Smoking
No Weapons | No Music
Seven fabulous friendly faces!

Carbon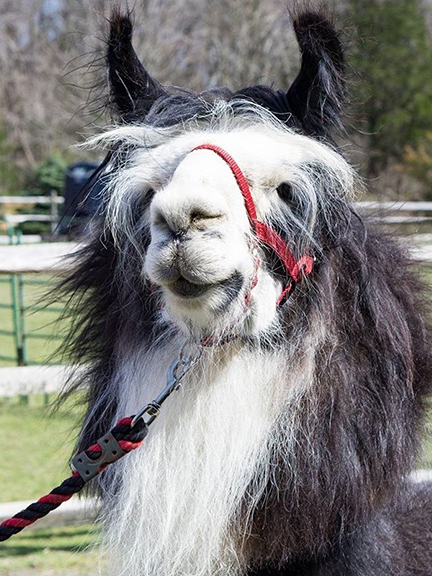 Clemente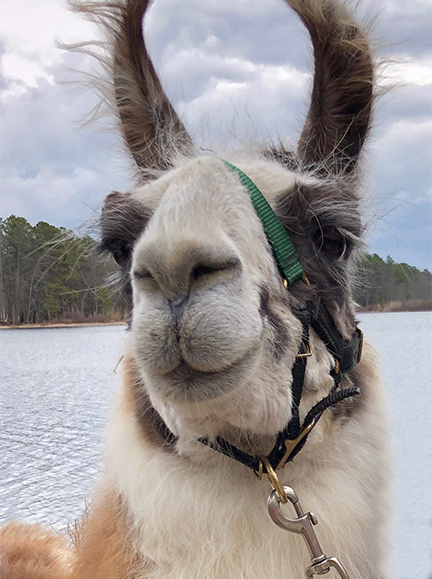 Eden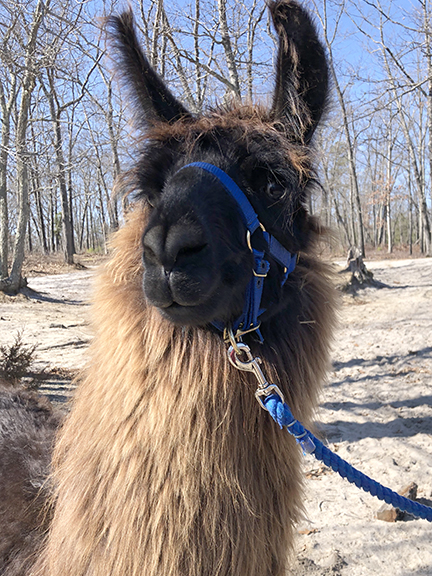 Eduardo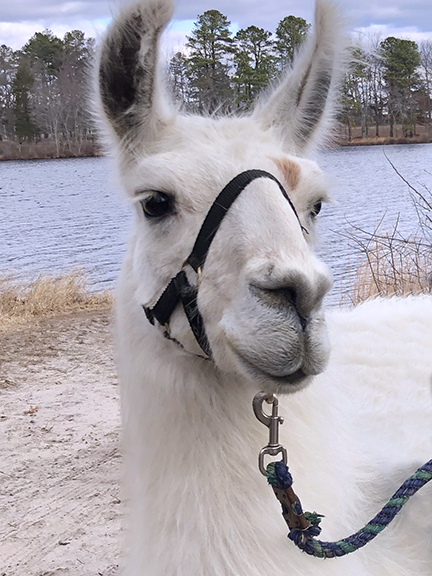 Gunner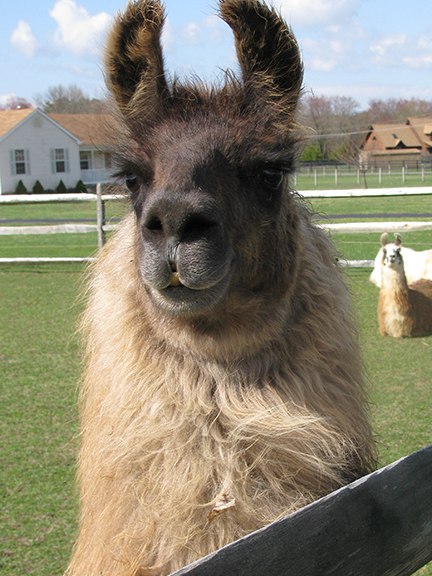 Jim-E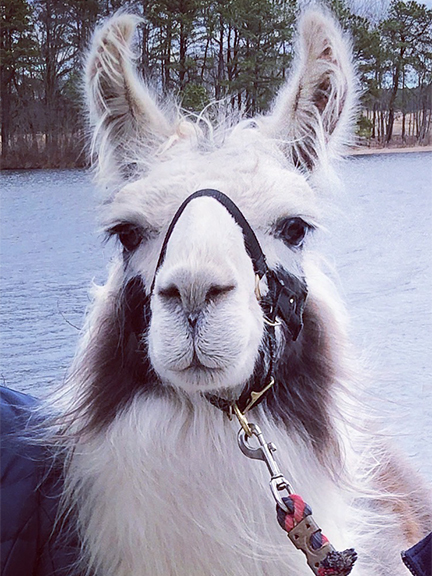 Jonathan