Giving a Second Wind Llama Adventure is as easy as 1-2-3!
Choose the type of adventure you'd like to give from the tabs at the bottom of the Llama Walks and Farm Visits page. You will see a price associated with each, so multiply that price by the number of people the gift is intended for.
Write a check for the total amount and make payable to: Second Wind Farm NE, LLC and mail it to Second Wind Farm NE, LLC, 256 East Colliers Mill Road, New Egypt, NJ 08533.
After payment is received I am happy to mail the certificate back to you, or send it directly to your gift recipient. Please provide the "To:" and "From:" and "Amount: Name of Adventure for How Many" as well as the mailing address.
With a little advance notice, you are welcome to come to the farm and pay in cash or by check and pick up your Gift Certificate in person.
Call Bev at 848-448-0886 or email me at swfarm@comcast.net with any questions or to make an appointment to stop by.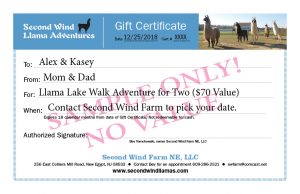 The Llama Walk Gift Certificate is 8.5 x 5.5 inches, printed on card stock and enclosed in a 6×9 white envelope.
Gift Certificates expire 18 calendar months from date of issue. Please contact us soon to book your Second Wind Llama Adventure as our calendar fills up quickly. Not redeemable for cash.
Thanks for your interest in giving a Second Wind Llama Adventure!